Stainless Steel Tubing Exporters, SS Tubes Supplier in India, Stainless Steel Seamless Tubes, Stainless Steel Tube Manufacturers in India, SS Welded Tube Distributors, 1/2" Stainless Steel Tubing, INOX Tube, Stainless Steel Coiled Tubing Price List, SS ERW Tubes, SS Instrumentation Tubes, Stainless Steel Heat-Exchanger Tubes, Stainless Steel Capillary Tubing Manufacturers in Mumbai.
Stainless Steel Tube in Mumbai, ASTM A213 Stainless Steel Tube, AISI Stainless Steel Round Tubing, 3/8" Stainless Steel Tube, ASTM A554 SS Square Tubing, ASTM A249 Stainless Steel Superheater Tube Dealer, Stainless Steel Welded Tubing, SS Rectangular Tubes, SS Condenser Tubes, ASTM A269 Stainless Steel Seamless Tubing Stockists in Mumbai, Austenitic Stainless Steel Tubes, 1/4" Stainless Steel Tube, SS Polished Tubing, Stainless Steel Rectangle Tube Traders in India.
Silver Tubes is one of the renowned traders of Stainless Steel Seamless Tubes, which are fabricated using the finest quality of the metals that are procured from reputed experts of the industry. We have an extensive gamut of qualitative SS Tubes, which finds all-embracing utilities in different industrial applications. We offer the same in different grades such as Stainless Steel 304 Tubes, Stainless Steel 310s Tubes, Stainless Steel 316/316L Tubes, Stainless Steel 316Ti Tubes, Stainless Steel 317/317L Tubes, Stainless Steel 321/321H Tubes, Stainless Steel 347/347H Tubes, Stainless Steel 904L Tubes, and so on. We offer the same that has some excellent features to offer such as they are Easy to use, Quality tested, Hard-wearing, Easy to use, Minimum maintenance, Durable nature, Longer life, Nominal prices, Accurately engineered, Weather resistance, Corrosion resistance, Stable at high pressures, Temperature resistanceand more.
Our products are intricately designed by highly experienced engineers who make these products accurate in dimensions and high in durability.If you are looking for a grade of austenitic stainless steel that would be optimal for machining, Alloy Tubes has the compositional properties that make it the ideal candidate.It is useful for application in public areas where maintenance is not required but security is essential to prevent tampering. Hot-finished tubes need not be heat treated, and cold-drawn tubes shall be heat treated after the final cold draw pass. We offer these tubes in different sizes and shapes at affordable rates.
---
Stainless Steel Tube Specification
| | |
| --- | --- |
| Specifications | ASTM A213, A249, A269 / ASME SA213, SA249, SA269 |
| Outside Diameter | 6.00 mm OD up to 914.4 mm OD, Sizes up to 24" NB available Ex-stock, OD Size Steel Tubes available Ex-stock |
| Thickness Range | 0.3mm – 50 mm, SCH 5, SCH10, SCH 40, SCH 80, SCH 80S, SCH 160, SCH XXS, SCH XS |
| Type | Seamless / ERW / Welded / Fabricated / CDW |
| Form | Round Tubes, Square Tubes, Rectangular Tubes, Coiled Tubes, "U" Shape, Pan Cake Coils, Hydraulic Tubes |
| Length | Single Random, Double Random & Required Length |
| End | Plain End, Beveled End, Treaded |
| Outside Finish | 2B, No.4, No.1, No.8 Mirror Finish for Stainless Steel Tubes, Finish as per customer Requirements |
| Delivery Condition | Annealed and Pickled, Polished, Bright Annealed, Cold Drawn |
| Grade | 304, 304L, 304H, 310S, 310H, 316, 316TI, 316H, 316L, 316LN, 317, 317L, 321, 321H, 347, 347H, 904L |
| EN 10216-5 | EN 10216 Seamless steel tubes for pressure purposes. Technical delivery conditions. Stainless steel tubes, EN 10216-5 Tubes |
| EN 10217-7 | EN 10217 Welded steel tubes for pressure purposes, EN 10217-7 Tubes |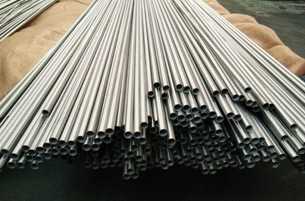 Other types of Stainless Steel Tubes
SS Tube exporter in India, Stainless Steel Tubes Supplier in India, ASTM A213 SS Tube, Stainless Steel Tube Gauges, SS Tubing, Stainless Steel Square Tube, ASTM A269 Stainless Steel Welded Tube, SS Seamless Tubes Manufacturer in India, SS U-Tubes, Stainless Steel Ornamental Tubing, Stainless Steel Rectangular Tubing, SS Round Tube, Stainless Steel ERW Tubes, Grades TP304 / TP304H / TP310S / TP316 / TP316H / TP317L/ TP321 / TP321H/ TP347 Tubes, stainless steel tubing sizes, 10mm Stainless Steel Tube, 40mm Stainless Steel Tube, 12mm Stainless Steel Tubing, Stainless Steel 1/16" Tubing, SS Rectangle Tube, SS Capillary Tube, 16mm Stainless Steel Tube
Supplier and Exporter of Stainless Steel Tubes in Cities of India Like
New Delhi, Gimhae-si, Nashik, Toronto, Bangkok, Ahmedabad, Kolkata, Hyderabad, Bogota, Dubai, Mumbai, Sydney, Montreal, Ludhiana, Mexico City, Navi Mumbai, Melbourne, Los Angeles, Kuwait City, Chiyoda, Noida, Algiers, Abu Dhabi, Manama, Houston, Riyadh, Karachi, Busan, Bhopal, Doha, Thane, Pimpri-Chinchwad, Lagos, Surat, Baroda, Secunderabad, Chandigarh, Jeddah, Moscow, New York, Jakarta, Granada, Gurgaon, Petaling Jaya, Hong Kong, Ho Chi Minh City, Bengaluru, Milan, Ankara, La Victoria, Port-of-Spain, Nagpur, Rio de Janeiro, Seoul, Courbevoie, Indore, Faridabad, Coimbatore, Tehran, Chennai, Edmonton, Perth, Jamshedpur, Hanoi, Ahvaz, Sharjah, Geoje-si, Visakhapatnam, Madrid, Santiago, Pune, Jaipur, Lahore, Kuala Lumpur, Ranchi, Ernakulam, Al Khobar, Istanbul, Aberdeen, Howrah, Dallas, Kanpur, Singapore, Thiruvananthapuram, London, Caracas, Al Jubail, Brisbane, Muscat, Dammam, Atyrau, Ulsan, Vung Tau, Colombo, Cairo, Vadodara, Calgary, Rajkot, Haryana.
Supplier and Exporter of Stainless Steel Tubes in Countries Like
Switzerland, Algeria, Jordan, Argentina, Belarus, Puerto Rico, Kazakhstan, Australia, Colombia, Japan, Hungary, Saudi Arabia, Venezuela, Kuwait, Sweden, Russia, Singapore, Ghana, Sri Lanka, Finland, Croatia, Namibia, Bulgaria, Mexico, Ecuador, Afghanistan, Estonia, United Arab Emirates, Israel, France, Denmark, Netherlands, Poland, Peru, Macau, Brazil, Trinidad & Tobago,Tunisia, Ireland, Turkey, Germany, Chile, Lebanon, Nepal, Czech Republic, Egypt, Hong Kong, South Africa, Bangladesh, Serbia, Libya, Bahrain, India, Iran, Philippines, Yemen, Poland, Angola, Bhutan, Italy, Pakistan, China, Oman, New Zealand, Iraq, South Korea, Kenya, Portugal, Nigeria, Belgium, Azerbaijan, Chile, Nigeria, Malaysia, Canada, United States, Iran, Thailand, Taiwan, Mongolia, Austria, Gambia, United Kingdom, Ukraine, Greece, Romania, Morocco, Qatar, Gabon, Spain, Tibet, Lithuania, Norway, Mexico, Zimbabwe, Vietnam, Costa Rica, Bolivia, Slovakia, Indonesia.