SS UNS S31008 Tubes, Stainless Steel 310S Tube, Stainless Steel 1.4845 Seamless Tube Exporters, SS UNS S31008 Welded Tubes Manufacturer, SS TP310S Welded Tubing Distributors, Stainless Steel S31008 Seamless Tubing, SS 310S Tubes Supplier, SS 1.4845 Welded Tubes, Stainless Steel 310S Seamless Tubes, 310S Stainless Steel Coiled Tubing in Mumbai, India.
Stainless Steel 310S ERW Tube, 310S SS Instrumentation Tubes in India, 310S Austenitic Stainless Steel Tubes, Stainless Steel ASTM A213 TP310S Seamless Tube, SS 310S Polished Tubing Dealer, SS 310S Rectangle Tube, INOX 310S Tube, ASTM A554 SS 310S Square Tubing, Stainless Steel ASTM A249 TP310S Heat-Exchanger Tubes Traders, SUS 310S Rectangular Tubing Stockists in Mumbai, AISI 310S Round Tube.
Silver tubes are one of the renowned manufacturer, stockiest, exporter, stockholder and supplier of a qualitative range of Stainless Steel 310S Tubes, which is an austenitic heat resistant alloy with excellent resistance to oxidation under mildly cyclic conditions through 2000 Degree F. Stainless Steel 310S Seamless Tubes is enthusiastically made-up by usual commercial actions. Stainless Steel 310S Welded Tubes are tougher and tend to work harden rapidly.The nickel present in Stainless Steel 310S EFW Tubesprovides resistance to moderately reducing solutions such as pure phosphoric acid, whatever the concentration, in cold solutions and up to 10% diluted hot solutions. Stainless Steel 310S ERW Tubes is a heat resisting stainless steel with high resistance to oxidation scaling and has high strength at elevated temperatures. This is combined with better creep properties at temperature and SS 310S Tubes are very tough and ductile. We provide SS tubes in different size, thickness, and standards as per client's norms.
Type 310S Tubes has good resistance to oxidation and may be used in continuous service up to 1140 Degree C provided reducing sulphur gases are not present. With its high chromium content, Grade 310S Tubes offers good corrosion resistance to increase high temperature properties. 310S Stainless Steel Tubes' high chromium and nickel contents provide comparable corrosion resistance, superior resistance to oxidation and the retention of a larger fraction of room temperature strength than the common austenitic alloys like SS 304. Stainless Steel UNS S31008 Tubes is utilized for ease of fabrication, which is further developed for enhanced creep resistance. Stainless Steel Din 1.4845 Tubes can also operate successfully in caustic solutions free of chlorides or fluorides at moderate temperatures.
ASTM A/ ASME SA213, A249, A269, A312, A358 to ASTM A789, A790 are standards consider while manufacturing these tubes. These are manufactured in customized dimensions such as 6" NB to 100" NB and other customized diameters. SS tubes are available in different types like seamless, ERW, welded, LSAW, fabricated and in the form of round, square, rectangular, hydraulic, etc. UNS S31000 material grade is used in processing these tubes.
The manufacturer only uses superior crude materials to gain maximum durability of tubes. With high tech machines tubes are affiliated with precise dimensions, to get optimum performance in harsh environments tubes to undergo with heat treatment process for extra hardening and eliminate the manufacturing defect.
Mechanical test, chemical test, intergranular corrosion test, positive material test, Rockwell hardness test, and third-party inspection are performed to separate fail materials. If you are searching Stainless Steel 310S Tubes, then you can place your order at silver tubes.
SUS 310S Seamless Tube | Stainless Steel 310S Superheater Tube Supplier | SS 310S Capillary Tubes | ASTM A554 SS 310S Hollow Tube | SS 310S ERW Tube Manufacturer in Mumbai | ASTM A249 Stainless Steel TP310S Welded Tubes | DIN 1.4845 Tubes | ASTM A213 TP310S Tubes Supplier | SS 310S Seamless Tubes Manufacturers in India | ASTM A213 TP310S Stainless Steel Tube | Stainless Steel 310S Welded Tube | Stainless Steel S31008 Tubing Stockholders | Stainless Steel EN 10217 1.4845 Tubes | Steel EN 10217-7 310S Welded Tubes | Stainless Steel EN 10216-5 310S Seamless Tubes | SS EN 10216 1.4845 Tubes
---
Stainless Steel 310S Tube Specification
| | |
| --- | --- |
| Specifications | ASTM A213, A249, A269 / ASME SA213, SA249, SA269 |
| Outside Diameter | 6.00 mm OD up to 914.4 mm OD, Sizes up to 24" NB available Ex-stock, OD Size Steel Tubes available Ex-stock |
| Thickness Range | 0.3mm – 50 mm, SCH 5, SCH10, SCH 40, SCH 80, SCH 80S, SCH 160, SCH XXS, SCH XS |
| Type | Seamless / ERW / Welded / Fabricated / CDW |
| Form | Round Tubes, Square Tubes, Rectangular Tubes, Coiled Tubes, "U" Shape, Pan Cake Coils, Hydraulic Tubes |
| Length | Single Random, Double Random & Required Length |
| End | Plain End, Beveled End, Treaded |
| Outside Finish | 2B, No.4, No.1, No.8 Mirror Finish for Stainless Steel Tubes, Finish as per customer Requirements |
| Delivery Condition | Annealed and Pickled, Polished, Bright Annealed, Cold Drawn |
| EN 10216-5 | EN 10216 310S Seamless Steel Tubes, EN 10216-5 1.4845 Seamless Steel Tube for pressure purposes |
| EN 10217-7 | EN 10217 310S Welded Steel Tubes, Steel EN 10217-7 1.4845 Welded Tube for pressure purposes |
Stainless Steel UNS S31008 Tubes Equivalent Grades
| | | | | | | |
| --- | --- | --- | --- | --- | --- | --- |
| STANDARD | UNS | WERKSTOFF NR. | JIS | BS | GOST | EN |
| SS 310S | S31008 | 1.4845 | SUS 310S | 310S16 | 20Ch23N18 | X8CrNi25-21 |
310S Stainless Steel Tube Chemical Composition
| | | | | | | | | | |
| --- | --- | --- | --- | --- | --- | --- | --- | --- | --- |
| Grade | C | Mn | Si | P | S | Cr | Mo | Ni | Fe |
| SS 310S | 0.08 max | 2.0 max | 1.00 max | 0.045 max | 0.030 max | 24.00 - 26.00 | 0.75 max | 19.00 - 21.00 | 53.095 min |
ASME SA213 SS TP310S Tubes Mechanical Properties
Grade
Tensile Strength
Yield Strength
Elongation
Hardness
Rockwell B (HR B) max
Brinell (HB) max
SS 310S
Psi – 75000 , MPa – 515
Psi – 30000 , MPa – 205
40
95
217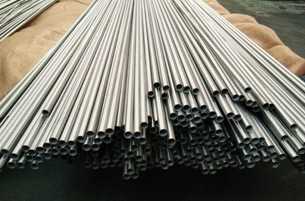 Other types of Stainless Steel 310S Tubes
ASTM A249 TP310S Tubes, 3/8" Stainless Steel 310S Tube Stockists in India, SS 310S Cold Drawn Tube exporter in India, ASTM A213 310S Stainless Steel Tube Supplier in India, Seamless and Welded Austenitic Stainless Steel 310S Tubing Distributor, 16mm Stainless Steel 310S Tube, ASTM A269 TP310S Tubing, SS 310S Fabricated Tube, Seamless Stainless Steel 310S Tube Manufacturer in Mumbai, SS 310S Tube Price List, Stainless Steel 310S Rectangle Tubes, 1/2" Stainless Steel 310S Tubing, SS 310S Electric Resistance Welded Tube, 310S Stainless Steel U-Tubes, Stainless Steel 310S Tube Gauges, Grade TP310S Tubes, Welded Stainless Steel UNS S31008 Tubing
Supplier and Exporter of Stainless Steel 310S Tubes in Cities of India Like
Chandigarh, Navi Mumbai, Chennai, Dubai, Montreal, Manama, Abu Dhabi, Kuala Lumpur, Aberdeen, Ankara, Dallas, London, New York, Gurgaon, Madrid, Hong Kong, Petaling Jaya, Ernakulam, Al Jubail, Al Khobar, Ahmedabad, Algiers, Thiruvananthapuram, Granada, Singapore, Edmonton, Rajkot, Rio de Janeiro, Howrah, Sydney, Ludhiana, Bangkok, Seoul, La Victoria, Los Angeles, Cairo, Riyadh, Tehran, Lagos, Haryana, Secunderabad, Port-of-Spain, Mexico City, Indore, Chiyoda, Pune, Doha, Istanbul, Bengaluru, Nashik, Busan, Caracas, Houston, Lahore, Sharjah, Hanoi, Noida, Calgary, Mumbai, Santiago, Jeddah, Coimbatore, Bhopal, Moscow, Jaipur, Ho Chi Minh City, Colombo, Dammam, Jamshedpur, Kanpur, Thane, Jakarta, Pimpri-Chinchwad, Courbevoie, Faridabad, Baroda, New Delhi, Karachi, Kuwait City, Ahvaz, Muscat, Ulsan, Geoje-si, Atyrau, Kolkata, Toronto, Brisbane, Bogota, Melbourne, Hyderabad, Milan, Visakhapatnam, Ranchi, Gimhae-si, Perth, Nagpur, Vadodara, Surat, Vung Tau.
Supplier and Exporter of Stainless Steel 310S Tubes in Countries Like
South Korea, Czech Republic, Yemen, Austria, Iraq, Russia, Philippines, Indonesia, Jordan, New Zealand, Egypt, Namibia, Hungary, Kazakhstan, Israel, Romania, Venezuela, Mexico, Brazil, Thailand, Nigeria, Morocco, Hong Kong, Ghana, Kuwait, Serbia, United Kingdom, Zimbabwe, Libya, Croatia, Bangladesh, Germany, Belarus, Denmark, Ecuador, Switzerland, Australia, Afghanistan, Chile, Greece, Canada, Poland, United States, Italy, Algeria, Belgium, Bulgaria, Lebanon, Tibet, Puerto Rico, Sri Lanka, Kenya, Ireland, Sweden, Qatar, Spain, Lithuania, Netherlands, Costa Rica, France, Taiwan, Poland, Gambia, Norway, Bhutan, Ukraine, Singapore, Iran, Azerbaijan, Colombia, Oman, United Arab Emirates, Gabon, Slovakia, Pakistan, Mongolia, Turkey, Finland, Estonia, Saudi Arabia, Peru, China, Nigeria, Mexico, South Africa, Chile, Angola, Japan, Malaysia, Trinidad & Tobago,Tunisia, Bahrain, Nepal, Macau, India, Bolivia, Vietnam, Portugal, Argentina, Iran.