Stainless Steel 904L Tube, Stainless Steel N08904 Seamless Tubing, Stainless Steel 1.4539 Seamless Tube Exporters, SS UNS N08904 Welded Tubes Manufacturer, 904L Stainless Steel Coiled Tubing, SS 904L Tubes Supplier, SS UNS N08904 Tubes, ASTM B674 SS TP904L Welded Tubing Distributors, Stainless Steel 904L Seamless Tubes, SS 1.4539 Welded Tubes in Mumbai, India.
Stainless Steel 904L Heat-Exchanger Tubes Traders, Stainless Steel 904L ERW Tube, 904L Austenitic Stainless Steel Tubes, SUS 904L Rectangular Tubing Stockists in Mumbai, ASTM A554 SS 904L Square Tubing, Stainless Steel ASTM B677 TP904L Seamless Tube, 904L SS Instrumentation Tubes in India, SS 904L Polished Tubing Dealer, INOX 904L Tube, AISI 904L Round Tube, SS 904L Rectangle Tube.
Silver Tubes is the world's renowned industry that is dealing at a greater extent as a producer, supplier, stockiest and exporter of SS 904L Tubes, which is one of the few stainless steels that at temperatures of up to 35 Degree C/ 95 Degree F provides full resistance in dilute sulfuric acid environments within the entire range of concentration, from 0-100percent. 904L Seamless Tubes (UNS NO8904) is a non-stabilized austenitic stainless steel with low carbon content. Stainless Steel 904L Welded Tubes is a low carbon high alloy austenitic stainless steel which is widely used in applications where the corrosion properties of Stainless Steel 316L and Stainless Steel 317L are not adequate. Stainless Steel 904L EFW Tubes is added with copper to improve its resistance to strong reducing acids, such as sulphuric acid. 904L ERW Tubes is also resistant to stress corrosion cracking and crevice corrosion. Grade 904L is non-magnetic, and offers excellent formability, toughness and weldability.
Stainless Steel 904L EFW Tubes contains high amounts of expensive ingredients, such as molybdenum and nickel. The addition of copper to Type 904L Tubes gives it corrosion resistant properties superior to the conventional chrome nickel stainless steels, in particular to sulphuric, phosphoric and acetic acids. Grade 904L Tubes is non-magnetic in all conditions and has excellent formability and weldability. Meanwhile, the austenitic structure also gives 904L Stainless Steel Tubesexcellent toughness, even down to cryogenic temperatures. Alloy 904L Tubes was originally developed to withstand environments containing dilute sulfuric acid.
The standard specifications of this grade tube are ASME SB/ ASTM B 675 / SA977. The dimensions of it are ranging from ASME, ASTM, and API. The sizes of the tube are ranging from 1/8" NB to 30"NB IN. The tubes are in 0.35mm to 6.35mm OD in thickness of 0.1mm to 1.2mm. The schedule of it is SCH 30, 20, 40, 80, 60, 120, 140, and 120, XS, XXS, and STD. The types of tubes available are ERW, LSAW, welded, fabricated and seamless. The forms of it are square, hydraulic, round, rectangle etc. The length in which it is available is single and double random and cut length. The ends are beveled, treaded and plain ends.
The Stainless Steel 904L Tubes is packed carefully using various techniques like wooden boxes, wooden crates, and carton boxes, shrink-wrapped. This assures safety and precautions from damages when shipped nationally or internationally to buyers.
SS 904L ERW Tube Manufacturer in Mumbai | ASTM B674 Stainless Steel TP904L Welded Tubes | DIN 1.4539 Tubes | ASTM B677 TP904L Tubes Supplier | SS 904L Seamless Tubes Manufacturers in India | Stainless Steel 904L Welded Tube | SUS 904L Seamless Tube | Stainless Steel 904L Superheater Tube Supplier | SS 904L Capillary Tubes | ASTM A554 SS 904L Hollow Tube | Stainless Steel N08904 Tubing Stockholders | ASTM B677 TP904L Stainless Steel Tube | Stainless Steel EN 10217 1.4539 Tubes | Steel EN 10217-7 904L Welded Tubes | Stainless Steel EN 10216-5 904L Seamless Tubes | SS EN 10216 1.4539 Tubes
---
Stainless Steel 904L Tube Specification
| | |
| --- | --- |
| Specifications | ASTM B677, B674 / ASME SB677, SB674 |
| Outside Diameter | 6.00 mm OD up to 914.4 mm OD, Sizes up to 24" NB available Ex-stock, OD Size Steel Tubes available Ex-stock |
| Thickness Range | 0.3mm – 50 mm, SCH 5, SCH10, SCH 40, SCH 80, SCH 80S, SCH 160, SCH XXS, SCH XS |
| Type | Seamless / ERW / Welded / Fabricated / CDW |
| Form | Round Tubes, Square Tubes, Rectangular Tubes, Coiled Tubes, "U" Shape, Pan Cake Coils, Hydraulic Tubes |
| Length | Single Random, Double Random & Required Length |
| End | Plain End, Beveled End, Treaded |
| Outside Finish | 2B, No.4, No.1, No.8 Mirror Finish for Stainless Steel Tubes, Finish as per customer Requirements |
| Delivery Condition | Annealed and Pickled, Polished, Bright Annealed, Cold Drawn |
| EN 10216-5 | EN 10216 904L Seamless Steel Tubes, EN 10216-5 1.4539 Seamless Steel Tube for pressure purposes |
| EN 10217-7 | EN 10217 904L Welded Steel Tubes, Steel EN 10217-7 1.4539 Welded Tube for pressure purposes |
Stainless Steel UNS N08904 Tubes Equivalent Grades
| | | | | | | | |
| --- | --- | --- | --- | --- | --- | --- | --- |
| STANDARD | UNS | WERKSTOFF NR. | AFNOR | EN | JIS | BS | KS |
| SS 904L | N08904 | 1.4539 | Z2 NCDU 25-20 | X1NiCrMoCu25-20-5 | SUS 904L | 904S13 | STS 317J5L |
904L Stainless Steel Tube Chemical Composition
| | | | | | | | | | |
| --- | --- | --- | --- | --- | --- | --- | --- | --- | --- |
| Grade | C | Mn | Si | P | S | Cr | Mo | Ni | Cu |
| SS 904L | 0.020 max | 2.00 max | 1.00 max | 0.040 max | 0.030 max | 19.00 – 23.00 | 4.00 – 5.00 max | 23.00 – 28.00 | 1.00 – 2.00 |
ASME SB674 SS TP904L Tubes Mechanical Properties
| | | | |
| --- | --- | --- | --- |
| Grade | Tensile Strength | Yield Strength (0.2%Offset) | Elongation |
| SS 904L | Psi – 71000, MPa – 490 | Psi – 32000, MPa – 220 | 35 % |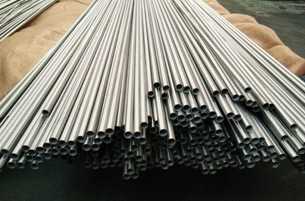 Other types of Stainless Steel 904L Tubes
Welded Stainless Steel UNS N08904 Tubing, 904L Stainless Steel U-Tubes, ASTM B674 TP904L Tubes, Grade TP904L Tubes, Stainless Steel 904L Rectangle Tubes, 16mm Stainless Steel 904L Tube Supplier in India, SS 904L Electric Resistance Welded Tube, 1/2" Stainless Steel 904L Tubing, SS 904L Cold Drawn Tube exporter in India, ASTM B677 904L Stainless Steel Tube, ASME SB674 TP904L Tubing, 3/8" Stainless Steel 904L Tube Stockists in India, Seamless Stainless Steel 904L Tube Manufacturer in Mumbai, Seamless and Welded Austenitic Stainless Steel 904L Tubing Distributor, Stainless Steel 904L Tube Gauges, SS 904L Tube Price List, SS 904L Fabricated Tube
Supplier and Exporter of Stainless Steel 904L Tubes in Cities of India Like
Petaling Jaya, Bangkok, Mumbai, Abu Dhabi, Madrid, Ho Chi Minh City, Caracas, Pimpri-Chinchwad, Houston, Chandigarh, Jeddah, Perth, Secunderabad, Singapore, Noida, Lahore, Jamshedpur, London, Toronto, Mexico City, Seoul, Montreal, Thane, Al Jubail, Jakarta, Bengaluru, Hong Kong, Granada, New Delhi, Bogota, Los Angeles, Baroda, Colombo, Vung Tau, Melbourne, Gurgaon, Kolkata, Port-of-Spain, Riyadh, Kuala Lumpur, Moscow, Aberdeen, Pune, Lagos, Tehran, Dammam, Thiruvananthapuram, Nashik, Karachi, Dallas, Sharjah, Geoje-si, Milan, Brisbane, Hyderabad, Muscat, Gimhae-si, Rajkot, Atyrau, Ahmedabad, Vadodara, Kuwait City, Kanpur, Faridabad, Santiago, Ulsan, La Victoria, Rio de Janeiro, Courbevoie, Doha, Chiyoda, Edmonton, Haryana, Indore, Calgary, Ernakulam, Cairo, Chennai, Nagpur, Ranchi, Jaipur, Al Khobar, Bhopal, Ahvaz, Dubai, Ludhiana, Surat, Busan, Hanoi, New York, Howrah, Sydney, Ankara, Navi Mumbai, Visakhapatnam, Coimbatore, Algiers, Istanbul, Manama.
Supplier and Exporter of Stainless Steel 904L Tubes in Countries Like
Nepal, Oman, United Arab Emirates, Iran, Gabon, Vietnam, Ecuador, Brazil, Serbia, Bangladesh, Israel, Zimbabwe, India, Jordan, Lithuania, Belgium, Gambia, Ukraine, Indonesia, Slovakia, Turkey, Morocco, Russia, Namibia, South Korea, Switzerland, Chile, United States, Ireland, Canada, Afghanistan, Puerto Rico, Hungary, Poland, Iraq, Azerbaijan, Lebanon, Macau, United Kingdom, Mongolia, Nigeria, Angola, Libya, Costa Rica, Mexico, Kazakhstan, Malaysia, Ghana, Trinidad & Tobago,Tunisia, China, Finland, Japan, Bahrain, France, Iran, Australia, Sri Lanka, Kuwait, Belarus, Chile, Tibet, Sweden, South Africa, Greece, Argentina, Kenya, Saudi Arabia, Croatia, Colombia, Taiwan, Mexico, Spain, Czech Republic, Singapore, Algeria, Poland, Austria, Norway, Netherlands, Yemen, Nigeria, Philippines, Romania, New Zealand, Hong Kong, Pakistan, Italy, Germany, Bulgaria, Bhutan, Estonia, Portugal, Denmark, Thailand, Egypt, Peru, Qatar, Venezuela, Bolivia.