Stainless Steel 304 Seamless Tubes, SS UNS S30400 Tubes, SS TP304 Welded Tubing Distributors, Stainless Steel S30400 Seamless Tubing, SS 1.4301 Welded Tubes, Stainless Steel 304 seamless tubes Exporter, SS UNS S30400 Welded Tubes Manufacturer, Stainless Steel 1.4301 Seamless Tube Exporters, Stainless Steel 304 Tube, SS 304 Tubes Supplier, Stainless Steel 304 seamless tubes Manufacturer, 304 Stainless Steel Coiled Tubing in Mumbai, India.
SS 304 Rectangle Tube, INOX 304 Tube, Stainless Steel ASTM A213 TP304 Seamless Tube, AISI 304 Round Tube, ASTM A554 SS 304 Square Tubing, Stainless Steel ASTM A249 TP304 Heat-Exchanger Tubes Traders, SUS 304 Rectangular Tubing Stockists in Mumbai, Stainless Steel 304 ERW Tube, Stainless Steel 304 seamless tubes Supplier, 304 Austenitic Stainless Steel Tubes, SS 304 Polished Tubing Dealer, 304 SS Instrumentation Tubes in India.
Silver Tubes is one of the known manufacturers of Stainless Steel 304 Seamless Tubes, which has excellent resistance to a wide range of atmospheric environments and many corrosive media. 304 Seamless Tubes is subject to pitting and crevice corrosion in warm chloride environments and to stress corrosion cracking above about 60 Degree C. 304 Welded Tubes are the most versatile and widely used stainless steels. 304 EFW Tubes exhibit good machinability and have excellent weld-ability characteristics with or without the addition of filler metals. 304 ERW Tubes is used for a variety of household and industrial applications such as screws, machinery parts, car headers, and food-handling equipment. SS 304 Tubes is also used in the architectural field for exterior accents such as water and fire features.
Type 304 Tubes contains both chromium (usually 18%) and nickel (usually 8%) metals as the main non-iron constituents. Grade 304 Tubes is an austenite steel that stains less easily than other iron-based metals, but it's not literally stainless. 304 Stainless Steel Tubes is not very electrically or thermally conductive and is non-magnetic. Stainless Steel UNS S30400 Tubes has a higher corrosion resistance than regular steel and is widely used because of the ease in which it is formed into various shapes. We also offer these Stainless Steel Din 1.4301 Tubes in different sizes and shapes, along with customized options, at best possible rates to our clients.
Stainless Steel 304 Tubes by us are industry approved and certified, have major application in gas, petrochemical, oil power and desalination, shipbuilding, food, and other associated industries. These tubes are excellent for use in moist environments as well as resists corrosion and abrasion. With the ability to stand in elevated these bring easiness to work high heating industries. These tubes have great workability in terms of chemical transportation.
The manufacturer used only tested raw materials and advanced machines to get accurate dimensions and toughness. The heat treatment processes done on the pipes so that there will be more strengthen and become more durable.
These are available in wide range of shapes and sizes ranges from ½" OD to 12" OD, gauge – 25 SWG to 10 SWG, the length ranges up to 30 meters, and all these dimensions are customized according to customer requirement.
Stainless Steel 304 Tubes go through with different quality assurance tests like Rockwell hardness test, mechanical test, chemical test, intergranular corrosion test, positive material test, and third-party inspections assures none of the damaged product reaches your doorstep.
ASTM A213 TP304 Tubes Supplier | SS 304 Seamless Tubes Manufacturers in India | Stainless Steel 304 Welded Tube | SS 304 ERW Tube Manufacturer in Mumbai | ASTM A249 Stainless Steel TP304 Welded Tubes | DIN 1.4301 Tubes | ASTM A554 SS 304 Hollow Tube | Stainless Steel S30400 Tubing Stockholders | ASTM A213 TP304 Stainless Steel Tube | SUS 304 Seamless Tube | Stainless Steel 304 Superheater Tube Supplier | SS 304 Capillary Tubes | Stainless Steel EN 10217 1.4301 Tubes | Steel EN 10217-7 304 Welded Tubes | Stainless Steel EN 10216-5 304 Seamless Tubes | SS EN 10216 1.4301 Tubes
---
Stainless Steel 304 Tube Specification
| | |
| --- | --- |
| Specifications | ASTM A213, A249, A269 / ASME SA213, SA249, SA269 |
| Outside Diameter | 6.00 mm OD up to 914.4 mm OD, Sizes up to 24" NB available Ex-stock, OD Size Steel Tubes available Ex-stock |
| Thickness Range | 0.3mm – 50 mm, SCH 5, SCH10, SCH 40, SCH 80, SCH 80S, SCH 160, SCH XXS, SCH XS |
| Type | Seamless / ERW / Welded / Fabricated / CDW |
| Form | Round Tubes, Square Tubes, Rectangular Tubes, Coiled Tubes, "U" Shape, Pan Cake Coils, Hydraulic Tubes |
| Length | Single Random, Double Random & Required Length |
| End | Plain End, Beveled End, Treaded |
| Outside Finish | 2B, No.4, No.1, No.8 Mirror Finish for Stainless Steel Tubes, Finish as per customer Requirements |
| Delivery Condition | Annealed and Pickled, Polished, Bright Annealed, Cold Drawn |
| EN 10216-5 | EN 10216 304 Seamless Steel Tubes, EN 10216-5 1.4301 Seamless Steel Tube for pressure purposes |
| EN 10217-7 | EN 10217 304 Welded Steel Tubes, Steel EN 10217-7 1.4301 Welded Tube for pressure purposes |
Stainless Steel UNS S30400 Tubes Equivalent Grades
| | | | | | | | |
| --- | --- | --- | --- | --- | --- | --- | --- |
| STANDARD | UNS | WERKSTOFF NR. | AFNOR | EN | JIS | BS | GOST |
| SS 304 | S30400 | 1.4301 | Z7CN18‐09 | X5CrNi18-10 | SUS 304 | 304S31 | 08Х18Н10 |
304 Stainless Steel Tube Chemical Composition
Grade
C
Ni
Si
N
S
Mn
P
Cr
Mo
SS 304
min.
-
8.0
-
-
-
-
-
18.0
-
max.
0.08
10.5
0.75
0.10
0.030
2.0
0.045
20.0
ASME SA213 SS TP304 Tubes Mechanical Properties
Grade
Tensile Strength (MPa) min
Elongation (% in 50mm) min
Yield Strength 0.2% Proof (MPa) min
Hardness
Rockwell B (HR B) max
Brinell (HB) max
SS 304
515
40
205
92
201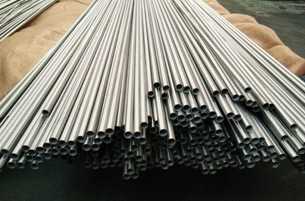 Other types of Stainless Steel 304 Tubes
SS 304 Cold Drawn Tube exporter in India, 1/2" Stainless Steel 304 Tubing Supplier in India, 16mm Stainless Steel 304 Tube, 3/8" Stainless Steel 304 Tube Stockists in India, 304 Stainless Steel U-Tubes, Welded Stainless Steel UNS S30400 Tubing, SS 304 Tube Price List, ASTM A249 TP304 Tubes, ASTM A269 TP304 Tubing, SS 304 Fabricated Tube, Stainless Steel 304 Rectangle Tubes, Seamless Stainless Steel 304 Tube Manufacturer in Mumbai, Grade TP304 Tubes, ASTM A213 304 Stainless Steel Tube, Stainless Steel 304 Tube Gauges, SS 304 Electric Resistance Welded Tube, Seamless and Welded Austenitic Stainless Steel 304 Tubing Distributor
Supplier and Exporter of Stainless Steel 304 Tubes in Cities of India Like
Chandigarh, Navi Mumbai, Chennai, Dubai, Montreal, Manama, Abu Dhabi, Kuala Lumpur, Aberdeen, Ankara, Dallas, London, New York, Gurgaon, Madrid, Hong Kong, Petaling Jaya, Ernakulam, Al Jubail, Al Khobar, Ahmedabad, Algiers, Thiruvananthapuram, Granada, Singapore, Edmonton, Rajkot, Rio de Janeiro, Howrah, Sydney, Ludhiana, Bangkok, Seoul, La Victoria, Los Angeles, Cairo, Riyadh, Tehran, Lagos, Haryana, Secunderabad, Port-of-Spain, Mexico City, Indore, Chiyoda, Pune, Doha, Istanbul, Bengaluru, Nashik, Busan, Caracas, Houston, Lahore, Sharjah, Hanoi, Noida, Calgary, Mumbai, Santiago, Jeddah, Coimbatore, Bhopal, Moscow, Jaipur, Ho Chi Minh City, Colombo, Dammam, Jamshedpur, Kanpur, Thane, Jakarta, Pimpri-Chinchwad, Courbevoie, Faridabad, Baroda, New Delhi, Karachi, Kuwait City, Ahvaz, Muscat, Ulsan, Geoje-si, Atyrau, Kolkata, Toronto, Brisbane, Bogota, Melbourne, Hyderabad, Milan, Visakhapatnam, Ranchi, Gimhae-si, Perth, Nagpur, Vadodara, Surat, Vung Tau.
Supplier and Exporter of Stainless Steel 304 Tubes in Countries Like
South Korea, Czech Republic, Yemen, Austria, Iraq, Russia, Philippines, Indonesia, Jordan, New Zealand, Egypt, Namibia, Hungary, Kazakhstan, Israel, Romania, Venezuela, Mexico, Brazil, Thailand, Nigeria, Morocco, Hong Kong, Ghana, Kuwait, Serbia, United Kingdom, Zimbabwe, Libya, Croatia, Bangladesh, Germany, Belarus, Denmark, Ecuador, Switzerland, Australia, Afghanistan, Chile, Greece, Canada, Poland, United States, Italy, Algeria, Belgium, Bulgaria, Lebanon, Tibet, Puerto Rico, Sri Lanka, Kenya, Ireland, Sweden, Qatar, Spain, Lithuania, Netherlands, Costa Rica, France, Taiwan, Poland, Gambia, Norway, Bhutan, Ukraine, Singapore, Iran, Azerbaijan, Colombia, Oman, United Arab Emirates, Gabon, Slovakia, Pakistan, Mongolia, Turkey, Finland, Estonia, Saudi Arabia, Peru, China, Nigeria, Mexico, South Africa, Chile, Angola, Japan, Malaysia, Trinidad & Tobago,Tunisia, Bahrain, Nepal, Macau, India, Bolivia, Vietnam, Portugal, Argentina, Iran.