Electropolished Stainless Steel Pipe, SS Electropolished Tube Exporters, Stainless Steel EP Pipes, SS EP Tubes, Stainless Steel Electro Polish Seamless Pipe Supplier in India, Stainless Steel Electropolished Welded Tube Distributors, SS EP Seamless Tube, SS EP Welded Pipe Manufacturers in India, Stainless Steel Electropolished Tubing Manufacturers in Mumbai.
ASTM A312 Stainless Steel Electropolished Pipe, ASTM A249/ A269 / A270 Stainless Steel Electropolished Tube, Electropolished Stainless Steel Tube Dealers, SS Electropolished Pipe, Stainless Steel EP Tubes, SS EP Pipes, Stainless Steel Electropolished Seamless Tube Traders in Mumbai, Stainless Steel Electro Polish Welded Pipe Stockists in India, SS EP Seamless Pipe, SS EP Welded Tube Manufacturers in India, Stainless Steel Electropolished Piping Stockholders.
Silver Tubes is an ISO certified company and it is one of the oldest manufacturers, suppliers, and exporters of Stainless Steel Electropolished Pipes and Tubes. If you have owned an industry that requires electro polished pipes and tubes than you can visit this store. They are leading supplier available in the market and they are known to deliver high quality of various types of industrial raw material like pipes, tubes and other all types of raw material in various metals. They offer the top quality product at a lowest possible price to their customers.
These products are available in custom-made sizes and shapes to the clients. We offer third party inspection to our products, and our products are approved by government approved laboratory test. We offer delivery of consignments in your expected time at any place.
Know the specification of Stainless Steel Electropolished Pipes and Tubes
» Dimensions: ASTM, ASME, ANSI, and API
» Standard: ASTM A554, A312, A778, JIS, GB etc
» Size: it may vary according to your requirement
» Length: up to 6 meters or custom length
» Thickness: it may also vary as per your product demand
» Type: welded, seamless, bead removed, ERW, EFW
» Surface: inside electro polished and outside mirror finish
These are the specifications of SS electropolished tubes and pipes. These tubes and pipes are used in a wide variety of application such as dairy production, brewery, food industry, pharmacy, cosmetics, chemical industry and more. These pipes and tubes are known for better corrosion, god flow characteristics; improve hygiene and smooth finish. So go and buy now!
---
Stainless Steel Electro Polish Pipe & Tube Specification
| | |
| --- | --- |
| Specifications | ASTM A312, A249, A269, A270 |
| Size | 1/8" NB to 24" NB, 1/4" OD to 24" OD sizes |
| Thickness Range | 1mm to 20mm, SCH 5/5S, 10/10S, 20/20S, 40/40S, 80/80S, 120/120S, 160/160S as per ANSI B36.19/36.10 |
| Form | Round, Square, Rectangular |
| Length | Up to 6 meters, custom cut lengths |
| Finish | Electropolished finish inside and outside |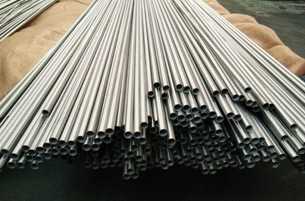 Other types of Stainless Steel Electropolished Pipes and Tubes
SS Electro Polished Pipe exporter in India, SS Electropolished Tubes Supplier in India, 1/2" Stainless Steel Electro Polish Tube, Stainless Steel EP Pipe Gauges, SS Electropolished Tubing, ASTM A269 Stainless Steel EP Welded Tube, EP SS Seamless Tubes Manufacturer in India, SS Electro Polished Tube, Stainless Steel Electropolished Pipe Price List in India, Stainless Steel Electropolished ERW Pipe, SS Electropolished ERW Tube, EP Stainless Steel Pipe Traders in India, EP Stainless Steel Tubes Exporter in Mumbai, AISI /ANSI Stainless Steel EP Pipes and Tubes
Supplier and Exporter of Stainless Steel Electropolished Pipes and Tubes in Cities of India Like
Petaling Jaya, Algiers, Manama, Hong Kong, Navi Mumbai, Noida, Kolkata, Coimbatore, Toronto, Singapore, La Victoria, Madrid, Abu Dhabi, Mumbai, Hyderabad, Montreal, Bengaluru, London, Al Jubail, Ahmedabad, Vadodara, Istanbul, Kanpur, New Delhi, Ranchi, New York, Rio de Janeiro, Faridabad, Santiago, Port-of-Spain, Calgary, Surat, Jaipur, Secunderabad, Ludhiana, Jeddah, Lagos, Busan, Moscow, Howrah, Ho Chi Minh City, Ernakulam, Baroda, Colombo, Perth, Visakhapatnam, Seoul, Muscat, Granada, Jakarta, Chennai, Ahvaz, Ulsan, Bangkok, Al Khobar, Sharjah, Houston, Cairo, Lahore, Jamshedpur, Pimpri-Chinchwad, Riyadh, Gimhae-si, Caracas, Indore, Milan, Haryana, Atyrau, Los Angeles, Ankara, Doha, Dubai, Chiyoda, Edmonton, Kuwait City, Melbourne, Nagpur, Hanoi, Dallas, Geoje-si, Nashik, Aberdeen, Pune, Karachi, Bhopal, Gurgaon, Thiruvananthapuram, Chandigarh, Kuala Lumpur, Rajkot, Thane, Mexico City, Vung Tau, Courbevoie, Brisbane, Dammam, Tehran, Sydney, Bogota.
Supplier and Exporter of Stainless Steel Electropolished Pipes and Tubes in Countries Like
Serbia, Iran, United Kingdom, Bulgaria, Malaysia, Chile, Qatar, South Africa, Bhutan, Nigeria, Turkey, Croatia, Canada, Afghanistan, Russia, Indonesia, Switzerland, Mexico, Trinidad & Tobago,Tunisia, Sri Lanka, Libya, Romania, Kazakhstan, Germany, Morocco, Lebanon, Netherlands, Israel, Mexico, Angola, Bangladesh, Singapore, Iran, Bahrain, Ukraine, Costa Rica, Gabon, Ireland, Iraq, Azerbaijan, Czech Republic, Kenya, Mongolia, Australia, United States, Namibia, Taiwan, Venezuela, Thailand, Belgium, Italy, Vietnam, Ghana, Japan, Pakistan, Nigeria, Philippines, Estonia, Zimbabwe, United Arab Emirates, France, Ecuador, Poland, South Korea, India, Hungary, Colombia, Finland, Hong Kong, Greece, Portugal, Denmark, Lithuania, New Zealand, Algeria, Gambia, Nepal, Peru, Slovakia, Austria, Brazil, Spain, Jordan, Belarus, Argentina, Oman, Bolivia, Yemen, Macau, Egypt, Puerto Rico, Sweden, Kuwait, Norway, Tibet, China, Poland, Saudi Arabia, Chile.