Silver Tubes is renowned for its high-quality 316L Electroplated Pipes and Tubes. Alloy 316L stands out as one of the most commonly used Stainless Steel types in the semiconductor industry. For certain production applications, low-corrosion passivation on production equipment becomes crucial. The chromium content in ASTM A269 aids in preventing corrosion, ensuring electropolished tubing retains its integrity. The exceptional corrosion resistance of 316L EP Pipes and tubes lies in the passive oxide layer generated during manufacturing. Electropolishing is employed to further enhance the performance of 316L Stainless Steel, making the ep tubing even more efficient and reliable.
Electropolished 316 Stainless Steel Pipe, SS UNS S31603 Electropolished Tube Exporter in India, Electropolished SS Tubing 316L, Electropolishing Stainless Steel 316L Piping, Electropolished SS 316L Tube Dealers, Electropolished Stainless Steel 316L Pipe Supplier in Mumbai, India, SS 316L Electropolished Seamless Tube Traders in Mumbai, SS 316L EP Seamless Pipe, 316L SS EP Welded Tube Manufacturers in India.
The process of electropolishing also helps in increasing the performance of 316L even under harsh environmental exposure. Yet another advantage of electropolishing is that it repairs the surface finish, makes the material easy to cleanse, and gives it a smooth finish. We manufacture our products under strict quality control measures to make sure that our products are perfectly finished and you also ensure that you get it at the best stainless steel pipe price. We manufacture our products using the best of raw materials and advanced technology, making them dependable.
SS 316L Electro Polish Tube | SS 316L Electropolished Pipe | Stainless Steel 1.4404 / 1.4435 Electropolished Welded Pipe Supplier in India | SS S31603 Electro Polish Pipes Manufacturers in India | SUS 316L EP Pipes | Electropolished SS 316L Tubing Exporters in Mumbai | Electropolished SS 316L Piping | EP SS 316L Pipe | AISI 316L EP Tubes Manufacturer in Mumbai
---
Electropolished 316L Stainless Steel Pipe & Tube Specification
| | |
| --- | --- |
| Specifications | ASTM A312, A249, A269, A270 |
| Size | 1/8" NB to 24" NB, 1/4" OD to 24" OD sizes |
| Thickness Range | 1mm to 20mm, SCH 5/5S, 10/10S, 20/20S, 40/40S, 80/80S, 120/120S, 160/160S as per ANSI B36.19/36.10 |
| Form | Round, Square, Rectangular |
| Length | Up to 6 meters, custom cut lengths |
| Finish | Electropolished finish inside and outside |
SS 316L Electropolished Pipe and Tube Equivalent Grades
| | | | | | | | |
| --- | --- | --- | --- | --- | --- | --- | --- |
| STANDARD | UNS | WERKSTOFF NR. | AFNOR | EN | JIS | BS | GOST |
| SS 316L | S31603 | 1.4404 / 1.4435 | Z3CND17‐11‐02 / Z3CND18‐14‐03 | X2CrNiMo17-12-2 / X2CrNiMo18-14-3 | SUS 316L | 316S11 / 316S13 | 03Ch17N14M3 / 03Ch17N14M2 |
Stainless Steel 316L EP Pipes and Tubes Chemical Composition
| | | | | | | | | | |
| --- | --- | --- | --- | --- | --- | --- | --- | --- | --- |
| Grade | C | Mn | Si | P | S | Cr | Mo | Ni | Fe |
| SS 316L | 0.035 max | 2.0 max | 1.0 max | 0.045 max | 0.030 max | 16.00 - 18.00 | 2.00 - 3.00 | 10.00 - 14.00 | 68.89 min |
Electropolished SS 316L Pipe and Tubing Mechanical Properties
Tensile Strength
Yield Strength (0.2%Offset)
Elongation
Hardness
Rockwell B (HR B) max
Brinell (HB) max
Psi – 75000 , MPa – 515
Psi – 30000 , MPa – 205
35 %
95
217
316L Stainless Steel Electropolished Pipes Size Chart
NB Sizes
Sch 5
Sch 10
Sch 40
Sch 80
Sch 160
1/8″
1/4″
3/8″
1/2″
3/4″
1″
1 1/4″
1 1/2″
2″
2 1/2″
3″
4″
5″
6″
316L Stainless Steel Electropolished Pipe/ Tube Price List
TP316/316L Electropolished stainless steel Pipes
$2500-4100 / Ton (FOB Price)
Electropolished Tube astm a213 tp316/316L
US $600-1200 / Ton (FOB Price)
stainless steel Electropolished Pipe tp316/316L
US $500-2000 / Ton (FOB Price)
ASTM A249 TP316/316L stainless steel Electropolished Tubes
US $850-2200 / Metric Ton (FOB Price)
sa312 tp304H Electropolished Pipes
US $1.5-9 / Kilogram (FOB Price)
tp316/316L Electropolished Tubes manufacturer
US $850-2200 / Metric Ton (FOB Price)
ASTM A312 Gr. TP316/316L Electropolished Pipe
US $500-1000 / Ton (FOB Price)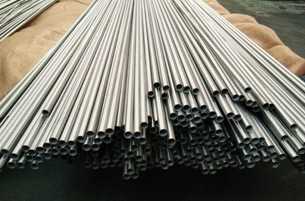 Other types of Stainless Steel 316L Electropolished Pipes and Tubes
ASTM A269 Stainless Steel 316L EP Welded Tube, SS 316L Electro Polished Pipe exporter in India, UNS S31603 Electropolished Tubing, AISI 316L EP SS Seamless Tubes Manufacturer in India, SS 316L Electropolished Tubes Supplier in India, Stainless Steel 316L Electropolished Pipe Price List in India, WERKSTOFF No 1.4404 / 1.4435 EP Pipes and Tubes, SS 316L Electropolished ERW Tube, EP Stainless Steel 316L Pipe Traders in India, EP SS 316L Tube, SUS 316L SS Electro Polished Tube, 1/2" Stainless Steel Electro Polish 316L Tube, EP Stainless Steel 316L Tubes Exporter in Mumbai, Stainless Steel 316L EP Pipe Gauges, 316L Stainless Steel Electropolished ERW Pipe
Supplier and Exporter of Stainless Steel 316L Electropolished Pipes and Tubes in Cities of India Like
Busan, Montreal, Sharjah, Singapore, Ranchi, Jakarta, Al Jubail, Bogota, Granada, Ulsan, Lagos, Jaipur, La Victoria, Tehran, Noida, Sydney, Los Angeles, Dallas, Navi Mumbai, Rajkot, Bangkok, Baroda, Hyderabad, Hong Kong, Toronto, Mexico City, Santiago, Moscow, Caracas, Atyrau, Haryana, Chandigarh, Mumbai, Madrid, Nagpur, Ho Chi Minh City, Istanbul, Kuala Lumpur, Doha, Aberdeen, Calgary, Dubai, Surat, Rio de Janeiro, Riyadh, Edmonton, Karachi, Melbourne, Bengaluru, Petaling Jaya, Hanoi, Vung Tau, Indore, Brisbane, Ahvaz, Jeddah, Thane, Coimbatore, Kanpur, New York, Al Khobar, Geoje-si, Milan, Ankara, Visakhapatnam, Nashik, Secunderabad, Ludhiana, Colombo, Thiruvananthapuram, Bhopal, Vadodara, Kuwait City, Port-of-Spain, Seoul, Cairo, Manama, Kolkata, Gurgaon, New Delhi, Houston, Faridabad, Chennai, Ernakulam, Howrah, Ahmedabad, Courbevoie, Muscat, Gimhae-si, Perth, Dammam, Lahore, Algiers, London, Abu Dhabi, Pune, Chiyoda, Pimpri-Chinchwad, Jamshedpur.
Supplier and Exporter of Stainless Steel 316L Electro Polish Pipes and Tubes in Countries Like
Afghanistan, Chile, Kenya, Libya, Saudi Arabia, Trinidad & Tobago,Tunisia, Poland, United States, Hong Kong, Singapore, Angola, Norway, Ecuador, Jordan, Egypt, Nigeria, Lithuania, Australia, Ukraine, Morocco, China, Poland, South Africa, Belgium, South Korea, Tibet, Slovakia, Mexico, Japan, Costa Rica, Indonesia, Kuwait, Canada, Czech Republic, United Kingdom, Vietnam, Belarus, Algeria, Oman, Bolivia, United Arab Emirates, Thailand, Macau, Qatar, Chile, India, Iran, Netherlands, Gabon, Israel, Argentina, Estonia, Iran, Sweden, Brazil, Russia, Kazakhstan, Romania, Ireland, Venezuela, Portugal, Yemen, Puerto Rico, Pakistan, Serbia, Mexico, Nigeria, Bahrain, Lebanon, Greece, Italy, Sri Lanka, Bangladesh, Bulgaria, Gambia, Taiwan, Austria, Turkey, Nepal, Germany, Zimbabwe, Denmark, Namibia, New Zealand, Colombia, Peru, Iraq, Croatia, Hungary, Ghana, Spain, Bhutan, Switzerland, France, Azerbaijan, Malaysia, Philippines, Finland, Mongolia.