SS UNS S31635 Welded Tubes Manufacturer, SS TP316Ti Welded Tubing Distributors, Stainless Steel 316Ti Tube, 316Ti Stainless Steel Coiled Tubing, SS 1.4571 Welded Tubes, SS UNS S31635 Tubes, Stainless Steel 1.4571 Seamless Tube Exporters, SS 316Ti Tubes Supplier, Stainless Steel 316Ti Seamless Tubes, Stainless Steel S31635 Seamless Tubing in Mumbai, India.
Stainless Steel ASTM A213 TP316Ti Seamless Tube, Stainless Steel ASTM A249 TP316Ti Heat-Exchanger Tubes Traders, SS 316Ti Polished Tubing Dealer, ASTM A554 SS 316Ti Square Tubing, 316Ti Austenitic Stainless Steel Tubes, AISI 316Ti Round Tube, INOX 316Ti Tube, SUS 316Ti Rectangular Tubing Stockists in Mumbai, 316Ti SS Instrumentation Tubes in India, SS 316Ti Rectangle Tube, Stainless Steel 316Ti ERW Tube.
Silver Tubes is reputed manufacturer & exporter of high quality Stainless Steel 316Ti Tubes, which can be used in most diluted organic acids at moderate temperatures.Stainless Steel 316Ti Seamless Tubesis also used in pure phosphoric acid at lower temperatures and up to 10% diluted solutions at elevated temperatures. Stainless Steel 316Ti Welded Tubes does not perform well in chloride solutions, even in small concentrations, or in sulphuric acid service. Working temperatures of 2100 Degree F – 2300 Degree F (1149 Degree C – 1260 Degree C) in Stainless Steel 316Ti EFW Tubes are recommended for forging, upsetting and other hot working processes. Stainless Steel 316Ti ERW Tubes contains high amounts of expensive ingredients, such as molybdenum and nickel. SS 316Ti Tubes is non-magnetic in all conditions and has excellent formability and weldability. The austenitic structure also gives Type 316Ti Seamless Tubes an excellent toughness, even down to cryogenic temperatures.
Grade 316Ti Seamless Tubes is a heat resistant, titanium stabilized, austenitic alloy that's commonly used for service in the 1000 Degree F – 1600 Degree F temperature range. Alloy 316Ti Seamless Tubes is primarily used in applications that involve continuous and intermittent service temperatures within the carbide precipitation range of 800 Degree F -1500 Degree F. 316Ti Stainless Steel Tubes have chemical and mechanical properties complying specifications. Stainless Steel UNS 31635 Tubes has higher strength at elevated temperatures and is sometimes used for structural and pressure-containing applications at temperatures above about 500 Degree C.
Stainless Steel 316Ti Superheater Tube Supplier | SS 316Ti Capillary Tubes | ASTM A554 SS 316Ti Hollow Tube | Stainless Steel S31635 Tubing Stockholders | ASTM A213 TP316Ti Stainless Steel Tube | SS 316Ti ERW Tube Manufacturer in Mumbai | ASTM A249 Stainless Steel TP316Ti Welded Tubes | DIN 1.4571 Tubes | ASTM A213 TP316Ti Tubes Supplier | SS 316Ti Seamless Tubes Manufacturers in India | Stainless Steel 316Ti Welded Tube | SUS 316Ti Seamless Tube | Stainless Steel EN 10217 1.4571 Tubes | Steel EN 10217-7 316Ti Welded Tubes | Stainless Steel EN 10216-5 316Ti Seamless Tubes | SS EN 10216 1.4571 Tubes
---
Stainless Steel 316Ti Tube Specification
| | |
| --- | --- |
| Specifications | ASTM A213, A249, A269 / ASME SA213, SA249, SA269 |
| Outside Diameter | 6.00 mm OD up to 914.4 mm OD, Sizes up to 24" NB available Ex-stock, OD Size Steel Tubes available Ex-stock |
| Thickness Range | 0.3mm – 50 mm, SCH 5, SCH10, SCH 40, SCH 80, SCH 80S, SCH 160, SCH XXS, SCH XS |
| Type | Seamless / ERW / Welded / Fabricated / CDW |
| Form | Round Tubes, Square Tubes, Rectangular Tubes, Coiled Tubes, "U" Shape, Pan Cake Coils, Hydraulic Tubes |
| Length | Single Random, Double Random & Required Length |
| End | Plain End, Beveled End, Treaded |
| Outside Finish | 2B, No.4, No.1, No.8 Mirror Finish for Stainless Steel Tubes, Finish as per customer Requirements |
| Delivery Condition | Annealed and Pickled, Polished, Bright Annealed, Cold Drawn |
| EN 10216-5 | EN 10216 316Ti Seamless Steel Tubes, EN 10216-5 1.4571 Seamless Steel Tube for pressure purposes |
| EN 10217-7 | EN 10217 316Ti Welded Steel Tubes, Steel EN 10217-7 1.4571 Welded Tube for pressure purposes |
Stainless Steel UNS S31635 Tubes Equivalent Grades
| | | | | | | | |
| --- | --- | --- | --- | --- | --- | --- | --- |
| STANDARD | UNS | WERKSTOFF NR. | AFNOR | EN | JIS | BS | GOST |
| SS 316Ti | S31635 | 1.4571 | Z6CNDT17‐123 | X6CrNiMoTi17-12-2 | SUS 316Ti | 320S31 | 08Ch17N13M2T |
316Ti Stainless Steel Tube Chemical Composition
| | | | | | | | | | |
| --- | --- | --- | --- | --- | --- | --- | --- | --- | --- |
| Grade | C | Mn | Si | P | S | Cr | Mo | Ni | Fe |
| SS 316Ti | 0.08 max | 2.0 max | 0.75 max | 0.045 max | 0.030 max | 16.00 - 18.00 | 2.00 - 3.00 | 10.00 - 14.00 | 68.395 min |
ASME SA213 SS TP316Ti Tubes Mechanical Properties
Grade
Tensile Strength
Yield Strength (0.2%Offset)
Elongation
Hardness
Rockwell B (HR B) max
Brinell (HB) max
SS 316Ti
Psi – 75000, MPa – 515
Psi – 30000, MPa – 205
35 %
75
205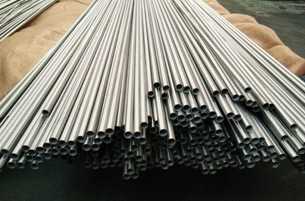 Other types of Stainless Steel 316Ti Tubes
ASTM A249 TP316Ti Tubes, SS 316Ti Tube Price List, 316Ti Stainless Steel U-Tubes, SS 316Ti Fabricated Tube, SS 316Ti Electric Resistance Welded Tube, 1/2" Stainless Steel 316Ti Tubing, ASTM A269 TP316Ti Tubing, 3/8" Stainless Steel 316Ti Tube Stockists in India, ASTM A213 316Ti Stainless Steel Tube, Seamless Stainless Steel 316Ti Tube Manufacturer in Mumbai, Seamless and Welded Austenitic Stainless Steel 316Ti Tubing Distributor, 16mm Stainless Steel 316Ti Tube Supplier in India, Welded Stainless Steel UNS S31635 Tubing, Stainless Steel 316Ti Rectangle Tubes, Stainless Steel 316Ti Tube Gauges, Grade TP316Ti Tubes, SS 316Ti Cold Drawn Tube exporter in India
Supplier and Exporter of Stainless Steel 316Ti Tubes in Cities of India Like
Surat, Cairo, Howrah, New Delhi, Ahmedabad, Pune, London, Muscat, Istanbul, Jeddah, Faridabad, Petaling Jaya, Gurgaon, Hong Kong, Santiago, Chiyoda, Algiers, Jakarta, Los Angeles, Gimhae-si, Manama, Perth, Ludhiana, Kuwait City, Visakhapatnam, Ernakulam, Nagpur, Abu Dhabi, Busan, Bengaluru, Courbevoie, Atyrau, Al Jubail, Rajkot, Melbourne, Geoje-si, Caracas, Riyadh, Edmonton, Thane, Secunderabad, Bhopal, Doha, Ankara, Noida, Milan, Sydney, Toronto, Bangkok, Jaipur, Thiruvananthapuram, Baroda, Indore, Dallas, Ulsan, Ranchi, Ahvaz, Tehran, La Victoria, Mexico City, Chandigarh, Calgary, Dammam, Chennai, Brisbane, Houston, Port-of-Spain, Hanoi, Seoul, Vung Tau, Hyderabad, Haryana, Jamshedpur, Ho Chi Minh City, Granada, Al Khobar, Colombo, Kanpur, Montreal, Moscow, Lahore, Madrid, Rio de Janeiro, Nashik, Karachi, Pimpri-Chinchwad, Kuala Lumpur, New York, Sharjah, Lagos, Aberdeen, Coimbatore, Navi Mumbai, Dubai, Mumbai, Singapore, Bogota, Kolkata, Vadodara.
Supplier and Exporter of Stainless Steel 316Ti Tubes in Countries Like
Morocco, Romania, Italy, Portugal, Czech Republic, Ecuador, Austria, South Korea, Denmark, Pakistan, Bahrain, Namibia, Nepal, Libya, Belarus, Azerbaijan, Angola, Mexico, Vietnam, Saudi Arabia, United Arab Emirates, Spain, Hungary, Finland, Lithuania, Kazakhstan, Gabon, Chile, Netherlands, Bhutan, Nigeria, Gambia, Tibet, Qatar, Ghana, Costa Rica, Hong Kong, Mongolia, Lebanon, Japan, Bangladesh, Poland, Canada, Serbia, Macau, New Zealand, Argentina, Peru, Ireland, Sri Lanka, Egypt, Venezuela, Zimbabwe, United States, France, Yemen, Israel, Malaysia, Kenya, Belgium, Nigeria, Sweden, Russia, Australia, Poland, Oman, Iraq, Iran, Croatia, Switzerland, Brazil, Thailand, Mexico, Slovakia, Ukraine, Philippines, Trinidad & Tobago,Tunisia, Bolivia, India, United Kingdom, Kuwait, Afghanistan, Colombia, South Africa, Iran, Bulgaria, Greece, Singapore, Indonesia, Chile, Jordan, Estonia, Germany, Taiwan, Norway, Turkey, Algeria, Puerto Rico, China.