Stainless Steel SMO 254 Tube Exporters, Alloy 254 Tubes, UNS S31254 Seamless Tubes, Werkstoff No 1.4547 Tube Manufacturers in India, 6MO Welded Tubing Distributors, SMO 254 Tube Price List, 254 SMO® ERW Tubes Supplier in Mumbai, India.
ASTM A213 SMO 254 Seamless Tubing, ASTM A249 6Mo Stainless Steel Welded Tubes Traders in Mumbai, SMO 1.4547 Round Tubes, Alloy UNS S31254 ERW Tube, 6 MOLY Tube, 254 SMO® Coiled Tube, Capillary Tubing, ASTM A269 Alloy SMO 254 Seamless Tube Stockists in India.
Silver Tubes is one of the well-known trader & supplier of SMO 254 / Alloy 254 / UNS S31254 / 6MO Tubes, which is often used for production tubing and casing in oil and gas production. SMO 254 Tubes is supplied cold worked with high strength properties. The modification of Alloy 254 Tubes was to control carbon and grain size to optimize stress rupture properties. UNS S31254 Tubes has further amendments to the collective aluminium and titanium levels to make sure in giving best elevate temperature properties. The chemical balance allows 6MO Tubes to exhibit excellent resistance to carburization, oxidation and nitriding atmospheres. 254 SMO Tubes will not become embrittled even after long periods of usage in the 1200 Degree F - 1600 Degree F range where many stainless steels become brittle. Excellent cold forming characteristics typically associated with SMO 254 Seamless Tubes.
Alloy 254 Seamless Tubes offers higher elevated temperature characteristics and has better creeping and stress rupture properties at the temperature limits up to 1100 Degree F – 1800 Degree F or 593 Degree C to 982 Degree C. UNS S31254 Seamless Tubes are commonly used in applications that include high temperature corrosive media. 6MO Seamless Tubes are often used in Ethylene Pyrolysis, hydrocarbon cracking, furnaces for vinyl chloride and acetic acid, valves, fittings and other fixtures. Due to its austenitic microstructure, 254 SMO Seamless Tubes has very good impact strength, both at room temperature and at cryogenic temperatures. We also offer these tubes at reasonable price to our clients.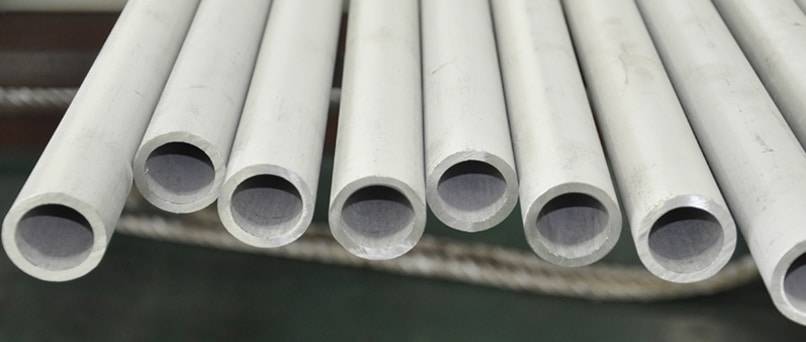 SMO 254 Stainless Steel Tubing | Alloy 254 SMO Tube | EN Number 1.4547 Tube | EN 10217-7 1.4547 Tube | EN 10217 SMO 254 Welded Tube | EN 10216 SMO 254 Seamless Tube | EN 10216-5 1.4547 SMO 254 Tube | Austenitic Steel 254 SMO Tubes | Alloy 254 Seamless Tube | ASTM A213 6MO Stainless Steel Tube | SS SMO 254 Welded Tube Exporter in India | 6-Moly Tubes Manufacturer in Mumbai
---
254 SMO Stainless Steel Tube Specification
| | |
| --- | --- |
| Dimensions | ASTM, ASME and API |
| Specifications | ASTM A/ASME SA213/A249/A269 |
| Size | 1/8″NB TO 30″NB IN |
| Type | Seamless/ERW/Welded/Fabricated/CDW |
| Wall thickness | .035″ – .065″ |
| Lengths | Single Random, Double Random & Cut Length. |
| Form | Round Tube, Square Tube, Rectangular Tube |
254 SMO SS Tubes Equivalent Grades
| | | | |
| --- | --- | --- | --- |
| STANDARD | UNS | WERKSTOFF NR. | EN |
| 254 SMO® | S31254 | 1.4547 | X1CrNiMoCuN20-18-7 |
6% Molybdenum Alloy Tube Chemical Composition
Grade
C
Ni
Si
N
S
Mn
P
Cr
Ce
Fe
SS 254 SMO
min.
-
17.5
-
0.18
-
-
-
19.5
0.03
Balance
max.
0.02
18.5
0.08
0.22
0.01
1.00
0.03
20.5
0.08
ASME SA213 SMO 254 Tubing Mechanical Properties
Grade
Tensile Strength (MPa) min
Elongation (% in 50mm) min
Yield Strength 0.2% Proof (MPa) min
Hardness
Rockwell B (HR B) max
Brinell (HB) max
254 SMO
650
35
300
50
270
Other types of SMO 254 Tubes
SMO 254 Stainless Steel Seamless Tubes exporter in India, SMO 254 SS Tube, SMO 254 ASTM A213 Tube Supplier in India, 6 MO Welded Tube, 254 SMO Austenitic Stainless Steel Tubes, UNS S31254 Welded Tube Manufacturers in Mumbai, Alloy SMO 254 Heat Exchanger Tube, 6 Moly Seamless Tube, SMO 254 Capillary Tubing, SMO 254 Tube Gauges, SMO Alloy 254 Tube, 6MO SS Tube, 6% Moly Alloy Tubes, 254 SMO® Cold Drawn Tube, Alloy 254 Tube price list in India, A269 Seamless SMO 254 Tube, ASTM A249 Welded SMO 254 Tube, WERKSTOFF NR. 1.4547 Seamless Tubing, UNS S31254 Tubing Manufacturer in India, EN 1.4547 ERW Tubes
Supplier and Exporter of SMO 254 / Alloy 254 / UNS S31254 / 6MO / 1.4547 Tubes in Cities of India Like
Edmonton, Algiers, Calgary, Ulsan, Chennai, Surat, Noida, Al Khobar, Hyderabad, Baroda, Ranchi, Milan, Vadodara, Ho Chi Minh City, Dallas, Thane, Melbourne, Hong Kong, Houston, Cairo, La Victoria, Abu Dhabi, Coimbatore, Jakarta, Bhopal, Bogota, London, Seoul, Courbevoie, Santiago, Dubai, Port-of-Spain, Doha, Vung Tau, Ludhiana, Rajkot, Atyrau, Mexico City, Los Angeles, Faridabad, Ankara, Hanoi, Perth, Jeddah, Nashik, Tehran, Kuala Lumpur, Pimpri-Chinchwad, Indore, Bengaluru, Petaling Jaya, Chiyoda, Gurgaon, Ahmedabad, New Delhi, Al Jubail, New York, Chandigarh, Navi Mumbai, Ahvaz, Secunderabad, Singapore, Jamshedpur, Pune, Lahore, Toronto, Lagos, Rio de Janeiro, Muscat, Geoje-si, Sydney, Kuwait City, Thiruvananthapuram, Mumbai, Ernakulam, Sharjah, Istanbul, Jaipur, Brisbane, Moscow, Granada, Karachi, Manama, Busan, Colombo, Haryana, Bangkok, Gimhae-si, Riyadh, Dammam, Kanpur, Howrah, Kolkata, Nagpur, Montreal, Caracas, Aberdeen, Visakhapatnam, Madrid.
Supplier and Exporter of SMO 254 / UNS S31254 / 6MO / 1.4547 / Alloy 254 Tubing in Countries Like
Canada, Azerbaijan, Indonesia, Colombia, Austria, Turkey, Gambia, Poland, Kenya, Egypt, Mongolia, South Korea, Malaysia, Saudi Arabia, Bolivia, Angola, Norway, Macau, Nigeria, Tibet, Zimbabwe, Yemen, Oman, Trinidad & Tobago,Tunisia, Japan, Croatia, Nigeria, Bulgaria, Vietnam, New Zealand, Algeria, France, India, Mexico, Serbia, Bhutan, Ghana, Portugal, Italy, Peru, Hungary, Greece, Ukraine, Lithuania, Mexico, Kazakhstan, Poland, United Kingdom, Namibia, Libya, United States, Iraq, Nepal, Russia, Philippines, Venezuela, Afghanistan, Czech Republic, United Arab Emirates, Argentina, Chile, Thailand, Jordan, Lebanon, Costa Rica, Israel, Germany, Puerto Rico, Iran, Estonia, Belarus, Slovakia, Sweden, Bahrain, Ireland, Sri Lanka, Chile, Brazil, Kuwait, China, Ecuador, Taiwan, Singapore, Qatar, South Africa, Netherlands, Bangladesh, Finland, Pakistan, Australia, Romania, Hong Kong, Denmark, Spain, Switzerland, Iran, Gabon, Belgium, Morocco.