Stainless Steel SMO 254 Pipe Exporters, Alloy 254 Pipes, UNS S31254 Seamless Pipes, Werkstoff No 1.4547 Pipe Manufacturers in India, 6MO Welded Pipe Distributors, SMO 254 EFW Pipe Price List, 254 SMO® ERW Pipes Supplier in Mumbai, India.
ASTM A312 SMO 254 Seamless Pipe, ASTM A409 6Mo Stainless Steel Welded Pipes Traders in Mumbai, SMO 1.4547 Round Pipes, Alloy UNS S31254 ERW Pipe, 6 MOLY Pipe, 254 SMO® Welded Large Diameter Pipe Stockists in India.
Silver Tubes is one of the prominent dealer and whole seller of SMO 254 Pipes, which is a high-alloy multi-purpose austenitic stainless steel for service in highly corrosive conditions. Alloy 254 Pipes also fights chloride-ion stress corrosion cracking fairly well. Due to their special properties, UNS S31254 Pipes are much preferred in a range of industries. All standard machining operations are readily performed on 6MO Pipes, which normally have optimum machining characteristics in the annealed temper. Although work-hardening rate is somewhat less than for the common grades of austenitic stainless steels, 254 SMO Pipes is still relatively high. The resistance of SMO 254 Seamless Pipes to general and localized corrosion under diverse conditions gives the alloy broad usefulness.
Alloy 254 Seamless Pipes is supplied in dimensions outside diameter in the solution annealed and white-pickled condition, or solution annealed in a bright annealing process. UNS S31254 Seamless Pipes are available from stock in ANSI pipe and heat exchanger tube sizes. 6MO Seamless Pipes have good weldability by all conventional processes. Forming equipment in 254 SMO Seamless Pipes should be well powered and strongly built to compensate for the increase in yield strength with plastic deformation. Applications of SMO 254 Welded Pipes include the handling of radioactive wastes, nuclear fuel reprocessing, pickling operations, acid production, oil and gas recovery, pollution control and chemical processing. We also offer these pipes in varied sizes at reasonable cost.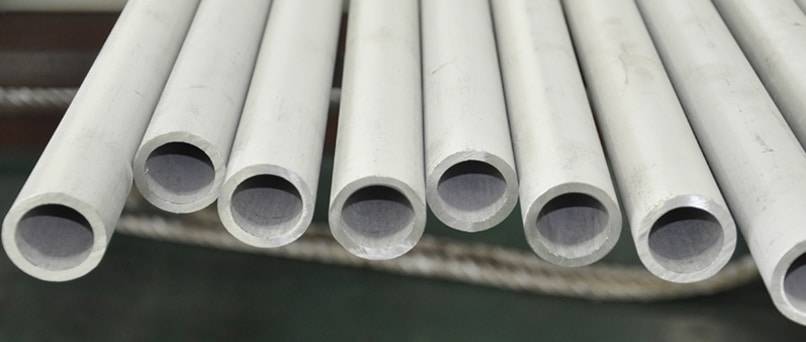 Alloy 254 Seamless Pipe | ASTM A312 6MO Stainless Steel Pipe | SS SMO 254 Welded Pipe Exporter in India | 6-Moly Pipes Manufacturer in Mumbai | SMO 254 Stainless Steel Pipes | Alloy 254 SMO Pipe | EN Number 1.4547 Pipe | EN 10217-7 1.4547 Pipe | EN 10217 SMO 254 Welded Pipe | EN 10216 SMO 254 Seamless Pipe | EN 10216-5 1.4547 SMO 254 Pipe | Austenitic Steel 254 SMO Pipes
---
254 SMO Stainless Steel Pipe Specification
| | |
| --- | --- |
| Dimensions | ASTM, ASME and API |
| Specifications | ASTM A409, ASME SA409 / ASTM A312, ASME SA312 / ASTM A358, ASME SA358 |
| Size | 1/2" NB - 24" NB |
| Type | Seamless / Welded / ERW |
| Schedule | SCH20, SCH30, SCH40, STD, SCH80, XS, SCH60, SCH80, SCH120, SCH140, SCH160, XXS |
| Specialized in | Large Diameter Size |
| Outer Diameter | 21.3–1219.0 mm |
| Wall thickness | 1.5–25.4 mm |
| Lengths | up to 12m OR Single Random, Double Random & Cut Length. |
| Form | Round Pipe, Square Pipe, Rectangular Pipe |
254 SMO SS Pipes Equivalent Grades
| | | | |
| --- | --- | --- | --- |
| STANDARD | UNS | WERKSTOFF NR. | EN |
| 254 SMO® | S31254 | 1.4547 | X1CrNiMoCuN20-18-7 |
6% Molybdenum Alloy Pipe Chemical Composition
Grade
C
Ni
Si
N
S
Mn
P
Cr
Ce
Fe
SS 254 SMO
min.
-
17.5
-
0.18
-
-
-
19.5
0.03
Balance
max.
0.02
18.5
0.08
0.22
0.01
1.00
0.03
20.5
0.08
ASME SA312 SMO 254 Pipes Mechanical Properties
Grade
Tensile Strength (MPa) min
Elongation (% in 50mm) min
Yield Strength 0.2% Proof (MPa) min
Hardness
Rockwell B (HR B) max
Brinell (HB) max
254 SMO
650
35
300
50
270
Other types of SMO 254 Pipes
SMO 254 Stainless Steel Seamless Pipes exporter in India, SMO 254 SS Pipe, SMO 254 ASTM A312 Pipe Supplier in India, 6 MO Welded Pipe, 254 SMO Austenitic Stainless Steel schedule 80 Pipes, UNS S31254 Welded Pipe Manufacturers in Mumbai, 6 Moly Seamless Pipe, SMO 254 Electropolish Pipes, SMO 254 Pipe Gauges, SMO Alloy 254 schedule 10 Pipe, 6MO SS SCH 40 Pipe, 6% Moly Alloy Pipes, 254 SMO® Hollow Pipe, Alloy 254 Pipe price list in India, Sch 5S Seamless SMO 254 Pipe, Sch. 40S SA409 Welded SMO 254 Pipe, WERKSTOFF NR. 1.4547 Seamless Pipes, UNS S31254 EFW Pipe Manufacturer in India, EN 1.4547 ERW Pipes
Supplier and Exporter of SMO 254 / Alloy 254 / UNS S31254 / 6MO / 1.4547 Pipes in Cities of India Like
Secunderabad, La Victoria, Ho Chi Minh City, Los Angeles, Jakarta, Istanbul, Howrah, Milan, Houston, Al Jubail, Singapore, Chandigarh, Muscat, Caracas, Coimbatore, Algiers, Doha, New York, Seoul, Ahmedabad, Jeddah, Sharjah, Montreal, Ludhiana, Thane, Baroda, Vadodara, Tehran, Chennai, Mumbai, Aberdeen, Hanoi, Cairo, Abu Dhabi, Mexico City, New Delhi, Colombo, Moscow, Calgary, Chiyoda, Faridabad, Melbourne, Pune, Visakhapatnam, Brisbane, Kuwait City, Granada, Lagos, Edmonton, Santiago, Nashik, Perth, Petaling Jaya, Navi Mumbai, Bogota, Ranchi, Rio de Janeiro, Kolkata, Sydney, Surat, Hong Kong, Rajkot, Bhopal, Bengaluru, Ulsan, Toronto, Ankara, Jamshedpur, London, Lahore, Busan, Pimpri-Chinchwad, Indore, Dubai, Thiruvananthapuram, Gurgaon, Atyrau, Kuala Lumpur, Noida, Dammam, Jaipur, Haryana, Courbevoie, Hyderabad, Riyadh, Geoje-si, Bangkok, Vung Tau, Manama, Karachi, Dallas, Madrid, Gimhae-si, Nagpur, Kanpur, Ahvaz, Ernakulam, Al Khobar, Port-of-Spain.
Supplier and Exporter of SMO 254 / UNS S31254 / 6MO / 1.4547 / Alloy 254 Pipes in Countries Like
Ukraine, United Arab Emirates, Denmark, Poland, Italy, Qatar, Yemen, Mongolia, Tibet, Lithuania, Venezuela, Croatia, Nepal, South Korea, Bahrain, Ireland, Zimbabwe, Malaysia, Canada, Estonia, Sri Lanka, South Africa, Namibia, Costa Rica, Mexico, Belgium, Germany, Ghana, Libya, Norway, Kazakhstan, Trinidad & Tobago,Tunisia, Argentina, Macau, Russia, Kuwait, Belarus, Bangladesh, Czech Republic, Austria, Switzerland, New Zealand, Nigeria, India, Jordan, Japan, France, Pakistan, Bhutan, Lebanon, Bolivia, Vietnam, Egypt, Turkey, Serbia, Bulgaria, Chile, United Kingdom, Gambia, Hungary, Poland, Taiwan, Singapore, Philippines, Greece, Romania, Colombia, Peru, Slovakia, China, Angola, Israel, Puerto Rico, Nigeria, Saudi Arabia, Thailand, United States, Netherlands, Finland, Gabon, Portugal, Spain, Iran, Ecuador, Australia, Mexico, Chile, Sweden, Iraq, Morocco, Kenya, Oman, Brazil, Afghanistan, Hong Kong, Indonesia, Algeria, Iran, Azerbaijan.